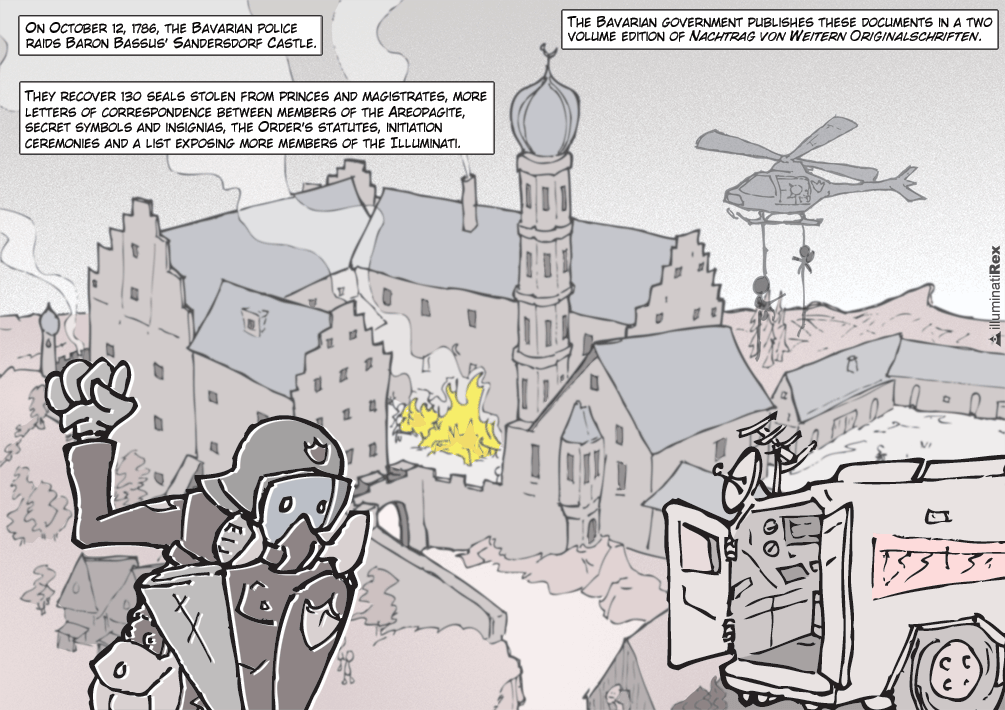 ---
Transcript
End of the Bavarian Illuminati Part 3: Raid at Sandersdorf Castle
On October 12, 1786 – Bavarian Police raid Baron Bassus' Sandersdorf Castle.
They recover 130 seals stolen from princes and magistrates, more correspondences between members of the Areopagite, secret symbols and insignias, the Order's statutes, initiation ceremonies and a list exposing more members if the Illuminati.
The Bavarian government publishes these documents in a two volume edition of Nachtrag Von Weitern Originalschriften.
Part 1: ORIGINS
---
Part 2: SECRETS, RITUALS AND SYMBOLS OF THE BAVARIAN ILLUMINATI
1st Class: THE NURSERY
2nd Class: Freemasonry
3rd Class: Mysteries
---
---
Part 3: Bavarian Illuminati Membership
---
Part 4: The End of the Bavarian Illuminati
---
---
Part 5: Illuminati in Legend
Illuminati Legend is an abridged version of What is the Illuminati?.

---
---