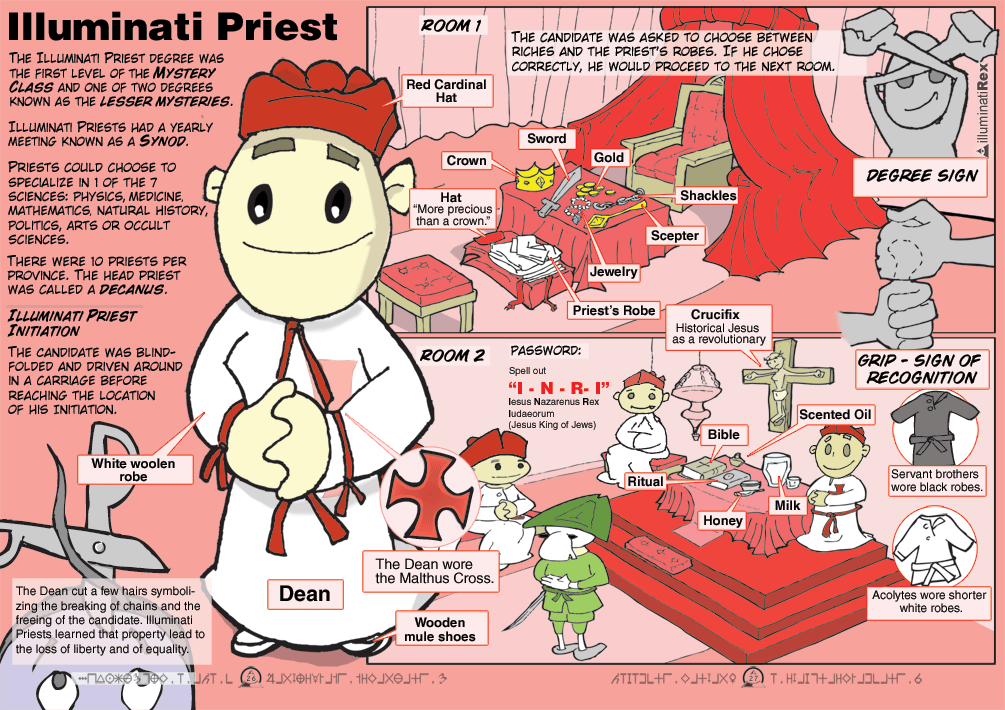 ---
Transcript
Illuminati Priest
The Illuminati Priest degree was the first level of the Mystery Class. It was one of two degrees known as the Lesser Mysteries of the Illuminati.
Illuminati Priests had a yearly meeting known as a Synod.
There were 10 priests per province. The head priest was called a Decanus.
Priest could choose to specialize in one of the 7 sciences: Physics, Medicine, Mathematics, Natural History, Politics, Arts or Occult Sciences.
Illuminati Priest Initiation
The Candidate was blindfolded and driven around in a carriage before reaching the location of his Illuminati Priest Initiation.
The Dean cut a few hairs symbolizing the breaking of chains and the freeing of the candidate. Illuminati Priests learned that property lead to the lost of liberty and of equality.
The Dean and the candidate faced the Orient.
Liberty Cap
White woolen robe
Mule Shoes
Room 1
The candidate was asked to choose between riches and the priest's robes. If he chose correctly, he would then proceed to the next room.
Crown
sword'
Gold
Jewelry
scepter
Chains
Priest's robe
Room 2
Password: Spell out I – N – R- I Jesus Nazareus Rex Judeorum – Jesus King of Jew
Servant brothers wore black robes.
Acolytes wore shorter white robes.
Crucifix – Historical Jesus as a revolutionary
Bible
Honey
Scented oil
Milk
Liberty Cap Priests wore a red bonnet (Phrygian Cap) later to become an important symbol of the French Revolution. To the Illuminati, the Liberty Cap was "more precious than a crown".
Dean wore the Malthus Cross
REMOVED: After nomad life ceased to exist, men build homes and started farming bringing property into existence, leading to mutual defense and the emergence of strong leaders – and, eventually, to a lost of liberty and equality.

Part 1: ORIGINS
---
Part 2: SECRETS, RITUALS AND SYMBOLS OF THE BAVARIAN ILLUMINATI
1st Class: THE NURSERY
2nd Class: Freemasonry
3rd Class: Mysteries
---
Part 3: Bavarian Illuminati Membership
---
Part 4: The End of the Bavarian Illuminati
---
Part 5: Illuminati in Legend
Illuminati Legend is an abridged version of What is the Illuminati?.

---
---