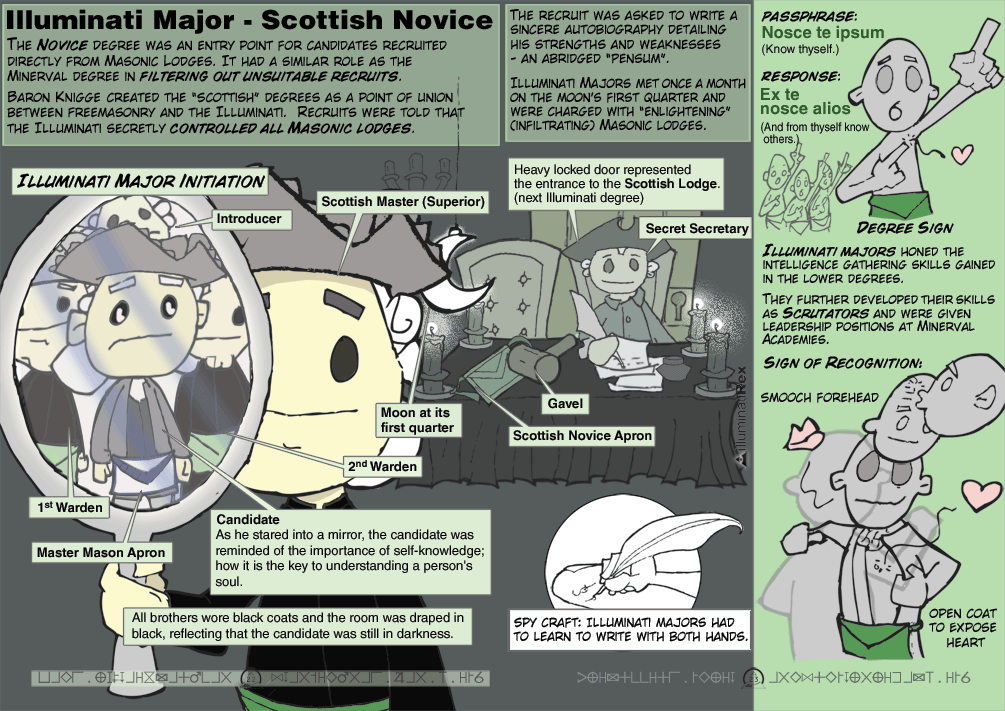 ---
Content
Part 1: ORIGINS
---
Part 2: SECRETS, RITUALS AND SYMBOLS OF THE BAVARIAN ILLUMINATI
1st Class: THE NURSERY
2nd Class: Freemasonry
3rd Class: Mysteries
---
Part 3: Bavarian Illuminati Membership
---
Part 4: The End of the Bavarian Illuminati
---
Part 5: Illuminati in Legend
Illuminati Legend is an abridged version of What is the Illuminati?.
Transcript
Illuminati Major – Scotch Novice
Scotch Novice was an entry point for candidates recruited directly from Masonic Lodges. Therefore, it had a similar role as the Minerval degree in filtering out unsuitable recruits. Weishaupt created the "Scottish" degrees as a point of union between Freemasonry and the Illuminati. The recruits were told that the Illuminati controlled all Masonic Lodges.
Those who didn't make the cut became STA BENE and would never learn of the existence of the Mystery Class.
Illuminati Major initiation
(labels) Scottish Master, Introducer, Senior Wardens, Secret Secretary, Candidate, "Heavy locked door represented the Entrance to the Scottish Lodge. (next Illuminati degree)", "All the brothers wore black coats and the room was draped in black. The idea being that the candidate was still in darkness.", gavel, Master Mason apron, Scottish Mason apron, moon at its first quarter
"As he stared into a mirror, the candidate was reminded of the importance of self-knowledge and how it was the key to understanding people's soul."
The recruit was asked to write a sincere autobiography detailing his strengths and weaknesses – an abridged Illuminati Novice "Pensum".
Illuminati Major met once a month on the moon's first quarter and were charged with enlightening. (infiltrating) Masonic Lodges
Passphrase: (While making the Degree Sign)
Nosce te ipsum.
(Know yourself.)
Response:
Ex te nosce alios.
(Know others.)
Illuminati Majors learned the secrets of intelligence gathering used in the Minerval Academies. They practiced their skills as Scrutators and were given leadership position over Minerval Academies.
Sign of recognition
Smooch forehead while opening coat to expose heart.
Spy craft: Illuminati Majors had to learn to write with both hands.
Main Sources
Main Sources
Buy the Book