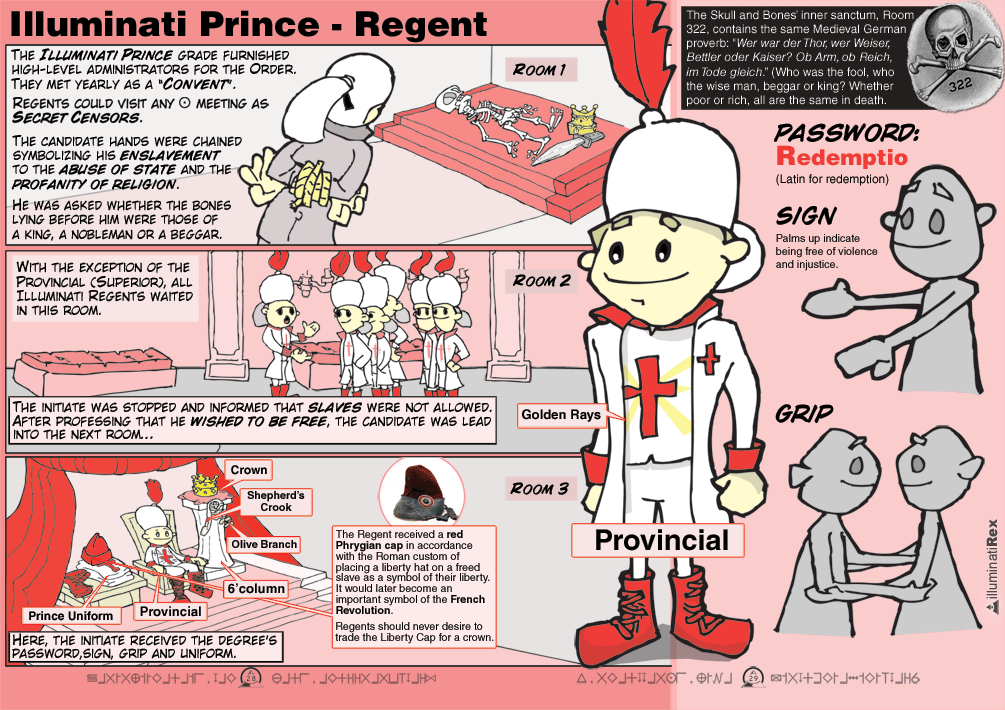 ---
Transcript
Illuminati Prince or Illuminati Regent Degree
The Illuminati Prince grade furnished high-level administrators for the Illuminati.
They met yearly as a "Convent".
Room 1
Initiation:The Candidate hands were chained symbolizing his enslavement to the abuse of state and the profanity of religion.
The initiate was asked whether the bones lying before him were those of a King, a nobleman or a beggar.
Yale's elite Skull and Bones society has a painting of skulls in its inner sanctum, Room 322. It includes the words " Wer war der Thor, wer Weiser, Bettler oder Kaiser? Ob Arm, ob Reich, im Tode gleich." (Who was the fool, who the wise man, beggar or king? Whether poor or rich, all are the same in death. There's also a skeleton called Madame Pompadour.
Room 2
With the exception of the Provincial (Superior), all Illuminati Regents waited in this room.
They stopped the initiate and informed him that slaves were not allowed. After professing that he wished to be free, the candidate was allowed into the next room…
Room 3
In this final room, the initiate was given his Prince uniform and given the grade's password, grips and sign.
Your Password is: Redemtio
Illuminati Regent could visit any Illuminati meeting as Secret Censors.
labels
Crown
Crook (trowel?)
Provincial
Golden rays
Palm leaf
6'column
Illuminati Prince Grip
Illuminati Prince Sign Palms up – Pure of violence and injustice
Part 1: ORIGINS
---
Part 2: SECRETS, RITUALS AND SYMBOLS OF THE BAVARIAN ILLUMINATI
1st Class: THE NURSERY
2nd Class: Freemasonry
3rd Class: Mysteries
---
Part 3: Bavarian Illuminati Membership
---
Part 4: The End of the Bavarian Illuminati
---
Part 5: Illuminati in Legend
Illuminati Legend is an abridged version of What is the Illuminati?.

---
---