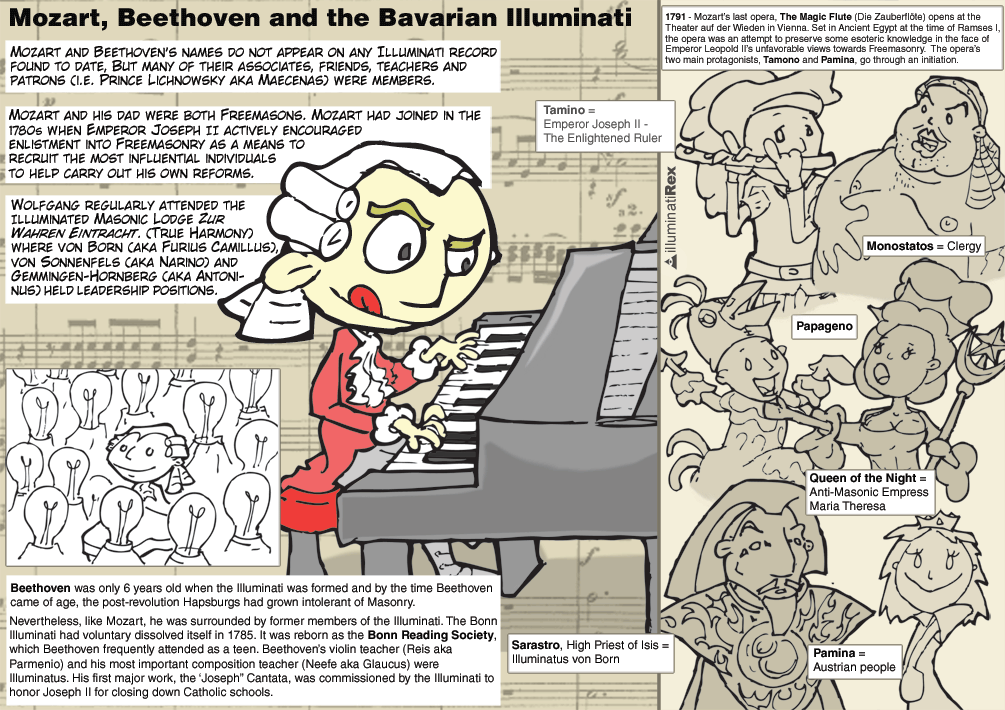 ---
Mozart, Beethoven and the Bavarian Illuminati - Transcript
Mozart, Beethoven and the Bavarian Illuminati
Mozart and Beethoven's names do not appear on any Illuminati record found to date, but many of their associates, friends, teachers and Patrons (i.e. Prince Lichnowsky aka Maecenas) were member of the Bavarian Illuminati. Tamino and Pamina go through an Initiation.
Mozart and his dad were both Freemasons. Mozart had joined Freemasonry in the 1780s when Emperor Joseph II actively encouraged enlistment into Freemasonry where he could recruit the most influential individuals to help carry out his own reforms.
Wolfgang regularly attended the Illuminated Masonic Lodge Zur wahren Eintracht. (True Harmony) where Von Born (aka Furius Camillus), von Sonnenfels (aka Narino) and Gemmingen-Hornberg (aka Antoninus) held leadership positions.
Beethoven was only 6 years old when the Illuminati was formed and by the time Beethoven came of age, the post-French revolution Hapsburg had grown intolerant of Freemasonry. Nevertheless, like Mozart, he was surrounded by former members of the Illuminati. The Bonn Illuminati had voluntary dissolved itself in 1785. It soon metamorphosed into the Bonn Reading Society which Beethoven frequently attended has a teen.
Beethoven's first Violin teacher was an Illuminatus (Reis aka Parmenio) and his most important composition teacher (Neefe aka Glaucus). His first major work, the 'Joseph" Cantata was commissioned by the Illuminati to honor Joseph II for shutting Catholic schools.
Sep 1791 – Mozart's last opera, The Magic Flute (Die Zauberflöte) opens at the Theater auf der Wieden in Vienna.
Set in Ancient Egypt at the time of Ramses I. The Opera was an attempt to preserve some esoteric knowledge in the face of the Emperor Leopold II unfavorable views towards Freemasonry. The Opera's protagonists, Pamina both go through an Initiation.
Queen of the Night = anti-Masonic Empress Maria Theresa Monostatos = Clergy
Pamina = Austrian people
Tamino = Emperor Joseph II – The Enlightened Ruler
Sarastro, High Priest of Isis = Illuminatus von Born
Part 1: ORIGINS
---
Part 2: SECRETS, RITUALS AND SYMBOLS OF THE BAVARIAN ILLUMINATI
1st Class: THE NURSERY
2nd Class: Freemasonry
3rd Class: Mysteries
---
Part 3: Bavarian Illuminati Membership
---
Part 4: The End of the Bavarian Illuminati
---
Part 5: Illuminati in Legend
Illuminati Legend is an abridged version of What is the Illuminati?.

---
---