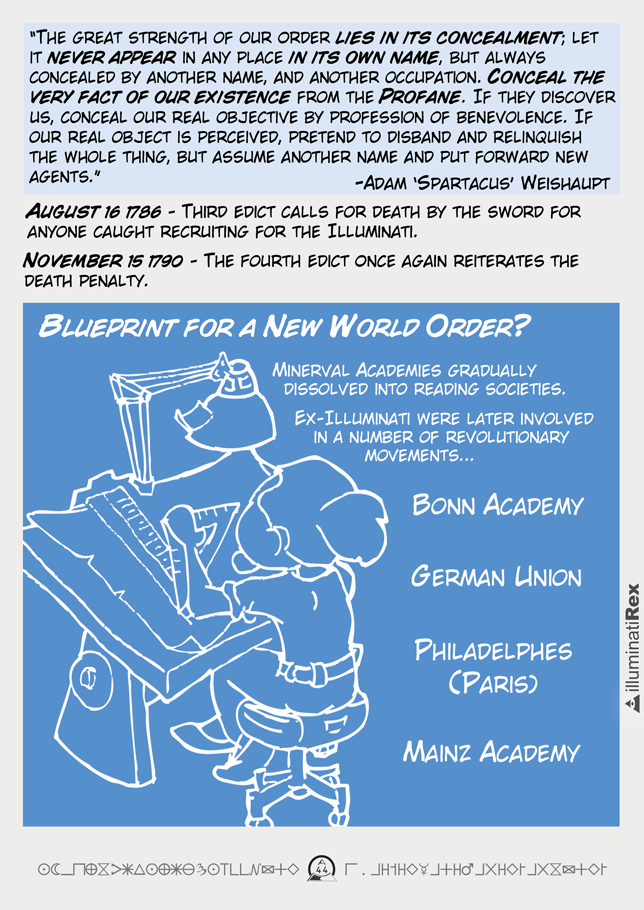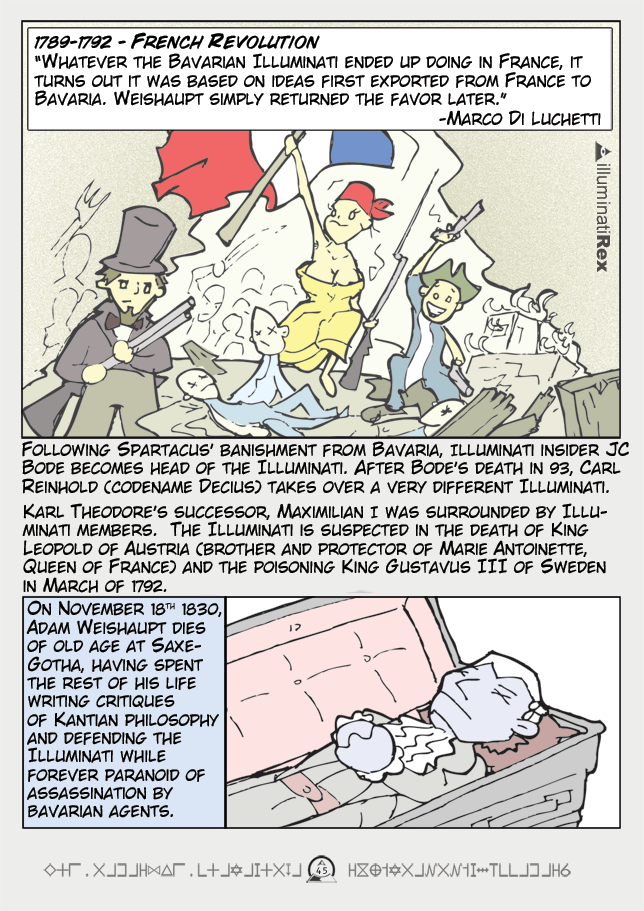 ---
Transcript
End of the Order Part 5: The Death of Adam Weishaupt
"The great strength of our Order lies in its concealment; let it never appear in any place in its own name, but always concealed by another name, and another occupation. Conceal the very fact of our existence from the profane. If they discover us, conceal our real objective by profession of benevolence. If our real object is perceived, pretend to disband and relinquish the whole thing, but assume another name and put forward new agents."
August 16 1786 – Third Edict calls for death by sword for anyone recruiting for the Illuminati.
November 15 1790 – Fourth Edict – Once again reiterates the death penalty.
Blueprint for a New World Order
Philadelphes at Paris
Mainz Academy
Bonn Academy
German Union
1789-1792 – French Revolution
"Whatever the Bavarian Illuminati ended up doing in France, it turns out it was based on ideas first exported from France to Bavaria. Weishaupt simply returned the favor later." ~Marco Di Luchetti
JC Bode takes over the Illuminati after Spartacus' banishment from Bavaria. Following Bode's death in 93, Reinhold becomes Head of a now very different Illuminati.
Karl Theodore's successor, Maximilian I was surrounded by Illuminati member. The Illuminati is suspected in the death of King Leopold of Austria (brother and protector of Marie Antoinette, queen of France) and the poisoning King Gustavus III of Sweden in March of 1792.
1830 Adam Weishaupt dies at Saxe-Gotha having spent the rest of his life writing critiques of Kantian philosophy and defending the Illuminati while forever paranoid of being assassinated by Bavarian agents.
Part 1: ORIGINS
---
Part 2: SECRETS, RITUALS AND SYMBOLS OF THE BAVARIAN ILLUMINATI
1st Class: THE NURSERY
2nd Class: Freemasonry
3rd Class: Mysteries
---
Part 3: Bavarian Illuminati Membership
---
---
Part 4: The End of the Bavarian Illuminati
---
---
Part 5: Illuminati in Legend
Illuminati Legend is an abridged version of What is the Illuminati?.

---