FBI COINTELPRO – The FBI begins surveilling, harassing, intimidating and even assassinating leaders of civil rights movements and other organization deemed too left, or too right.
The FBI's Counterintelligence Program infiltrates dissident groups within the US. J Edgar Hoover orders agents to "expose, disrupt, misdirect, discredit, or otherwise neutralize" the groups and its leaders.
Agents often incite violence…
Assets commit murders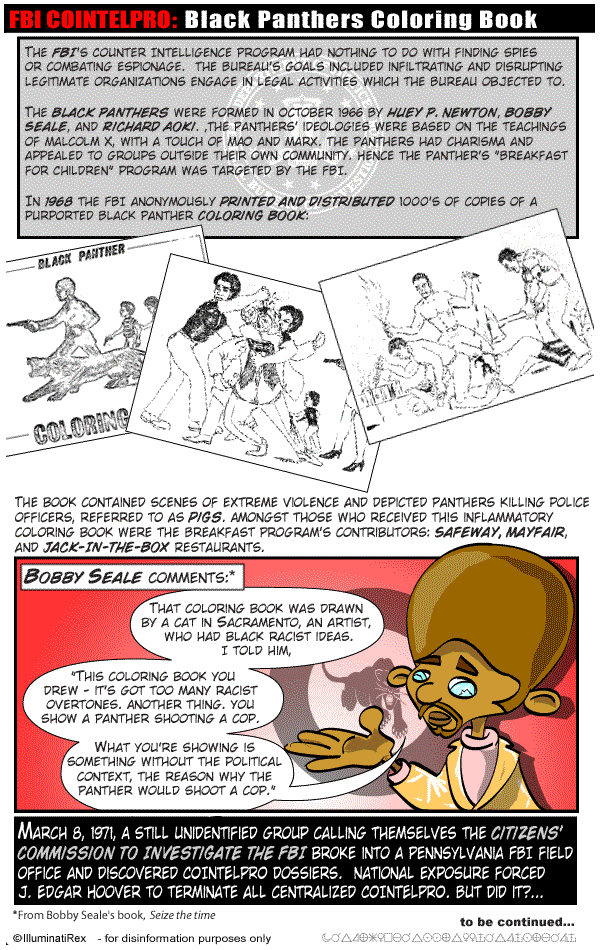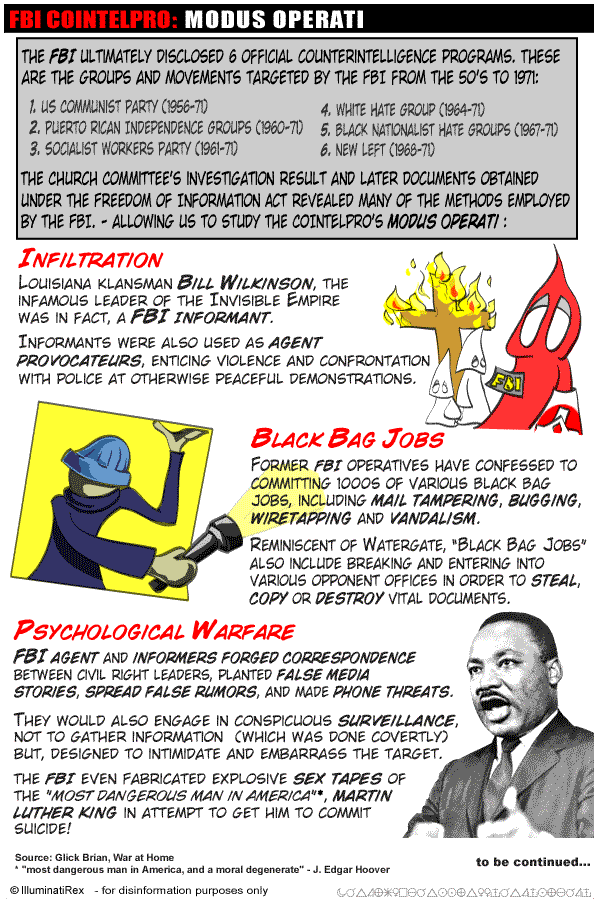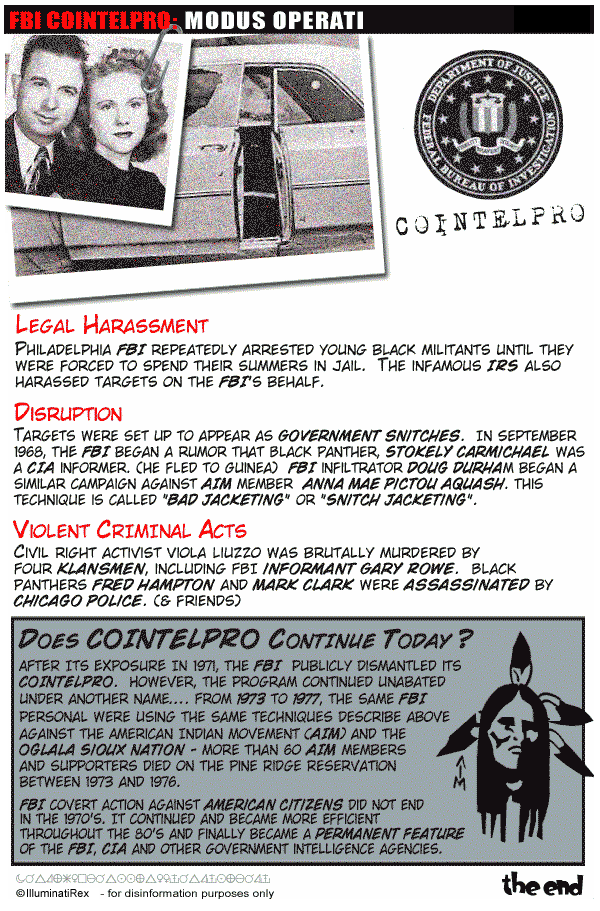 Transcript
FBI COINTELPRO
The COINTELPRO Papers : Documents from the FBI's Secret Wars Against Dissent in the United States
The FBI's Counter Intelligence Program had nothing to do with finding spies or combating espionage. The Bureau's goals included infiltrating and disrupting legitimate organizations engage in legal activities which the Bureau objected to. The Black Panthers' ideologies were based on the teachings of Malcolm X, with a touch of Mao and Marx. The Panthers had charisma and appealed to groups outside their own community. Hence the Panther's "Breakfast for Children" program was targeted by the FBI. In 1968 the FBI anonymously distributed 1000's of a purported Black Panther Coloring Book: The book contained scenes of extreme violence and depicted Panthers killing police officers, referred to as pigs. Amongst those who received this inflammatory coloring book were the Breakfast Program's contributors: Safeway, Mayfair, and the Jack-In-The-Box Restaurant
That coloring book was drawn by a cat in Sacramento, an artist, who had black racist ideas. I told him, "This coloring book you drew – it's got too many racist overtones. Another thing. You show a Panther shooting a cop. What you're showing is something without the political context, the reason why the Panther would shoot a cop.*
From Bobby Seale's Seize the time On March 8, 1971, A still unidentified group calling themselves the Citizens' Commission to Investigate the FBI broke into a Pennsylvania FBI field office and discovered COINTELPRO dossiers. National exposure forced J. Edgar Hoover to terminate all centralized COINTELPRO. Or did it?
The FBI ultimately disclosed 6 official counterintelligence programs. These are the groups and movements targeted by the FBI from the 50's to 1971:
1. US Communist Party (1956-71)
2. Puerto Rican Independence Groups (1960-71)
3. Socialist Workers Party (1961-71)
4. White Hate Group (1964-71)
5. Black Nationalist Hate Groups (1967-71)
6. New Left (1968-71)
The Church Committee investigation result and later documents obtained under the Freedom of Information Act revealed many of the methods employed by the FBI. – Allowing us to study the COINTELPRO's Modus Operandi:
Infiltration
Louisiana Klansman Bill Wilkinson, the infamous leader of the Invisible Empire was in fact, a FBI Informant.
Informants were also used as Agent provocateurs, enticing violence and confrontation with police at otherwise peaceful demonstrations.
Black Bag Jobs
Former FBI operatives have confessed to committing 1000s of various Black Bag jobs, including mail tampering, bugging, wiretapping and vandalism.
Reminiscent of Watergate, Black Bag jobs also include breaking and entering into various opponent offices in order to steal, copy or destroy vital documents.
Psychological warfare
FBI agent and informers forged correspondence between civil right leaders, planted false media stories, spread false rumors, and made phone threats.
They would also engage in conspicuous surveillance, not to gather information (which was done covertly) but, designed to intimidate and embarrass the target.
The FBI even forged explosive sex tapes of the "most dangerous man in America"*, Martin Luther King in attempt to get him to commit suicide.
Source: Glick Brian, War at Home
"most dangerous man in America, and a moral degenerate" – J. Edgar Hoover
Legal Harassment
Philadelphia FBI repeatedly arrested young bLAck militants until they were forced to spend their summers in jail. The infamous IRS also harassed targets on the FBI's behalf.
Disruption
Targets were set up to appear as Government snitches. In September 1968, FBI began a rumor that Black Panther, Stokely Carmichael was a CIA informer. FBI infiltrator Doug Durham began a similar campaign against AIM member Anna Mae Pictou Aquash. This technique is called "Bad Jacketing" or "Snitch Jacketing".
Violent Acts
Civil right activist Viola Liuzzo was brutally murders by a 4 Klansmen, including FBI informant Gary Rowe. Black Panthers Fred Hampton and Mark Clark were assassinated by Chicago Police.
After getting exposed in 1971, The FBI made a great public dismantling its COINTELPRO. However, the program continued unabated under another name….
From 1973 to 1977, the same FBI personal were using the same techniques against the American Indian Movement and the Oglala Sioux Nation. More than 60 AIM members and supporters died on the Pine Ridge Reservation between 1973 and 1976.
A rose by any other name?
Does COINTELPRO Continue today?
FBI covert action against American citizens did not end in the 1970's. It continued and became more efficient throughout the 80's and finally became a permanent feature of the FBI, CIA and other government intelligence agencies.
Black Panther coloring book
Although the book was firmly rejected by Black Panther leadership, the FBI went ahead and had it printed and distributed in order to vilify the Black Panthers.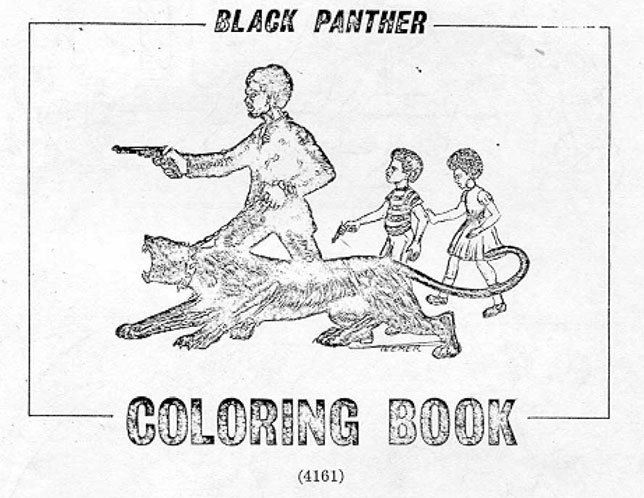 ---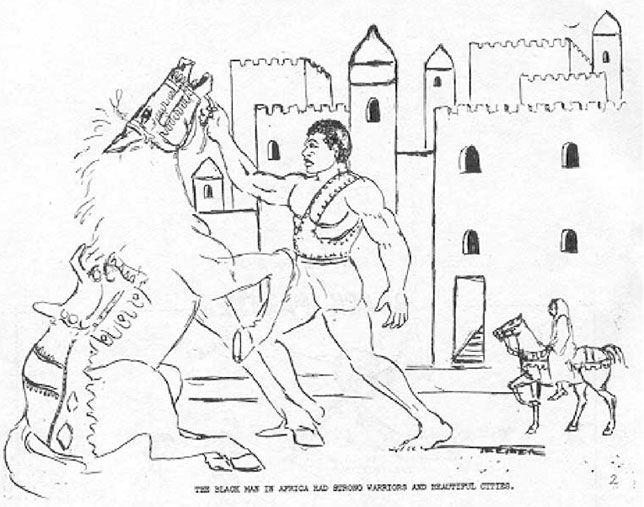 ---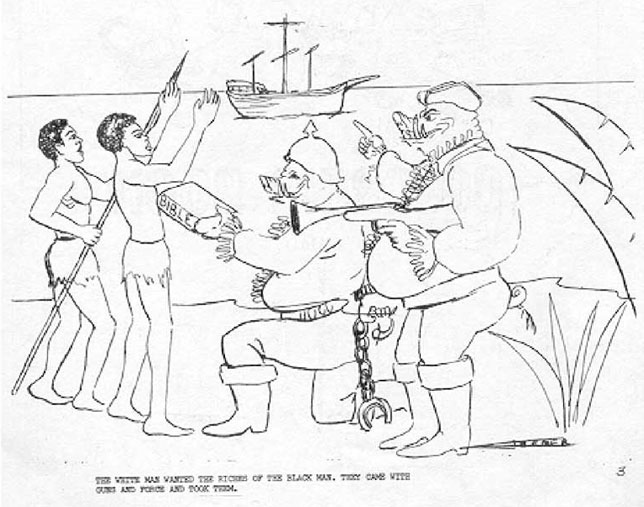 ---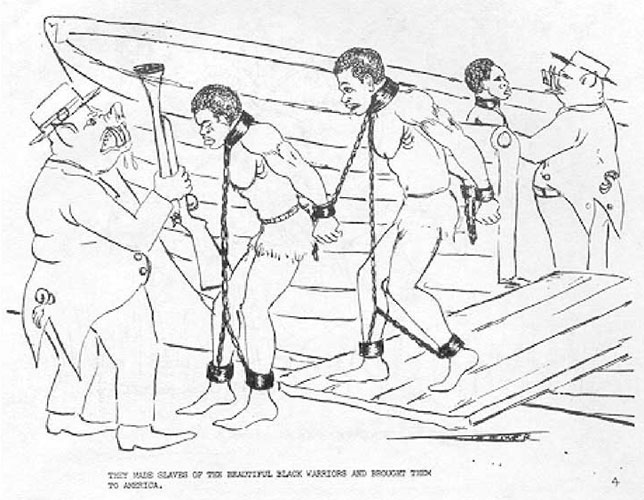 ---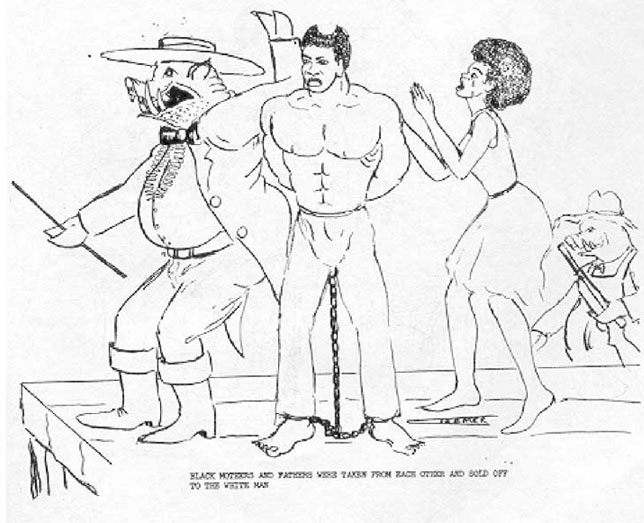 ---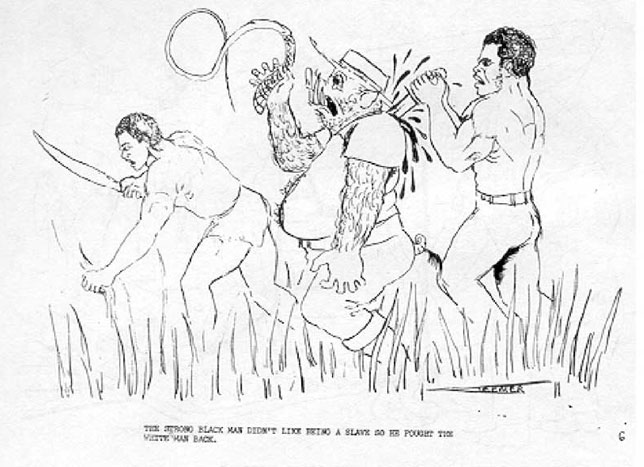 ---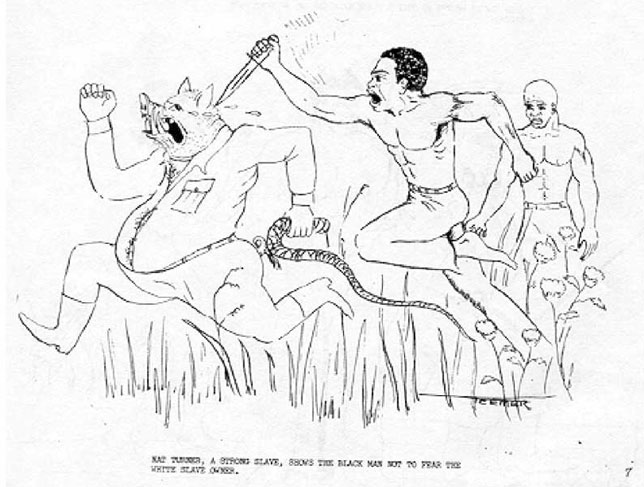 ---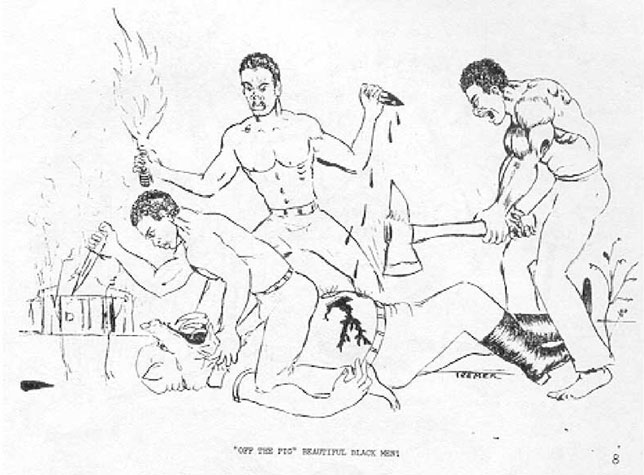 ---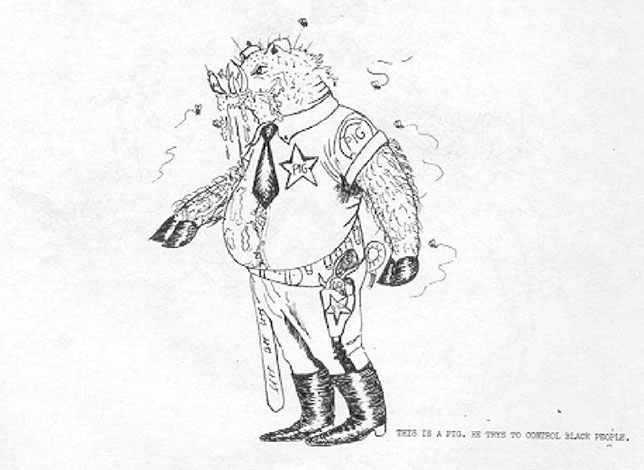 ---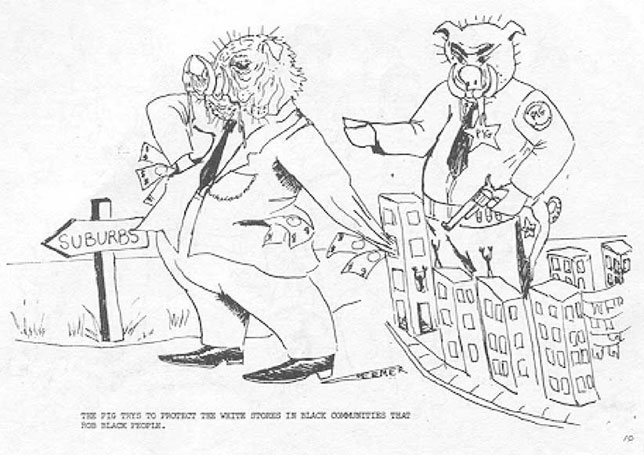 ---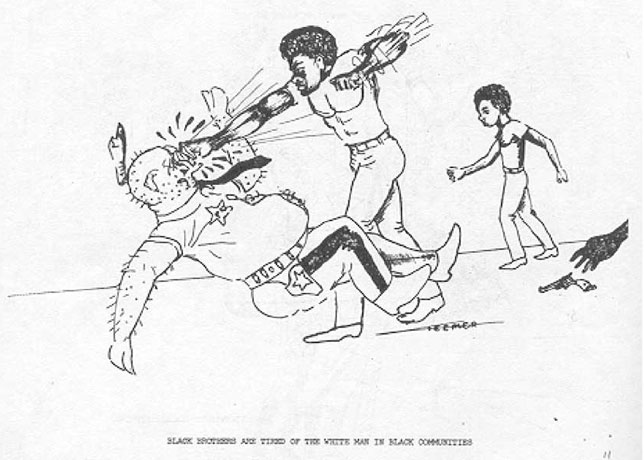 ---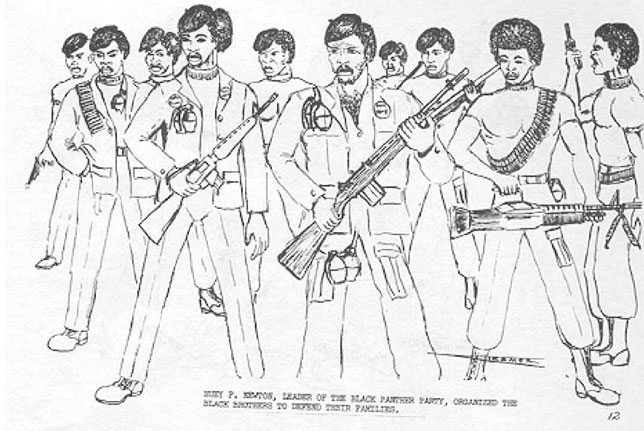 ---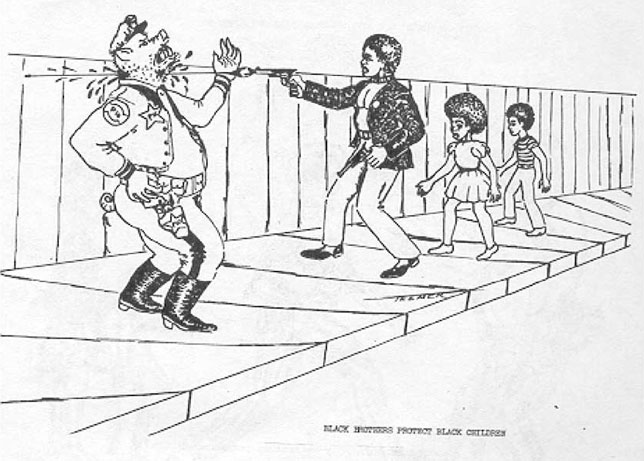 ---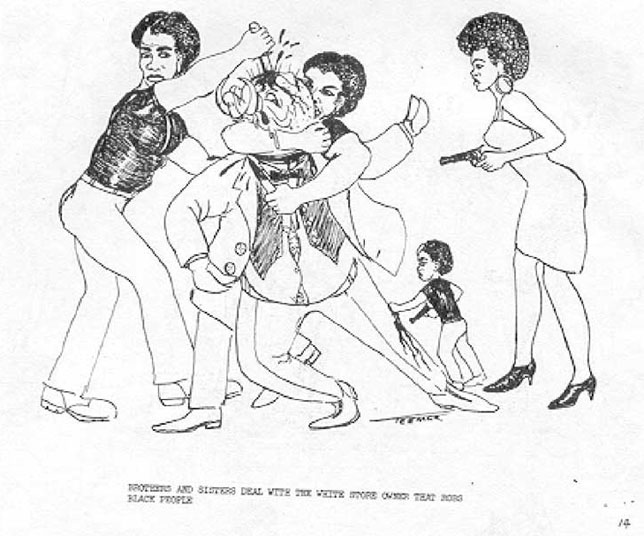 ---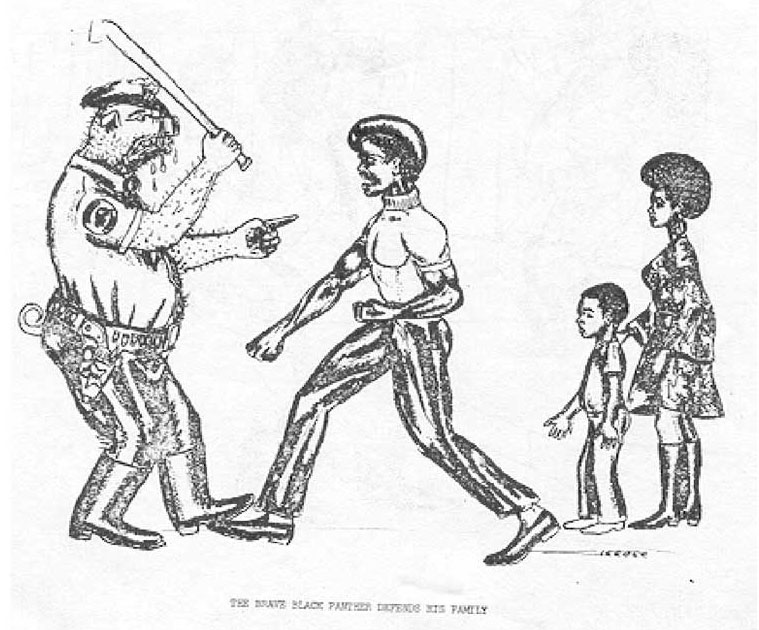 ---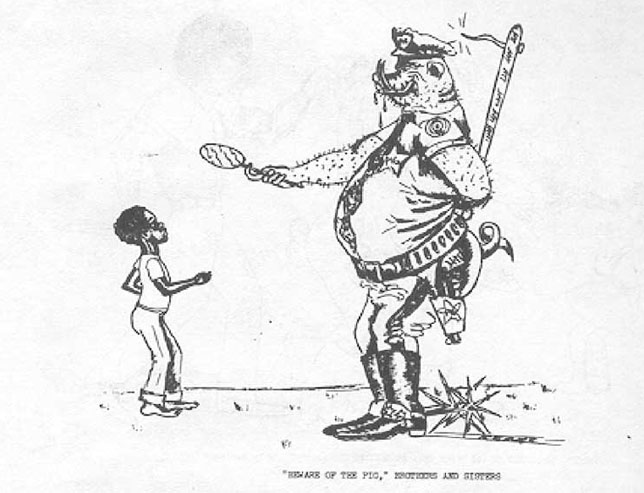 ---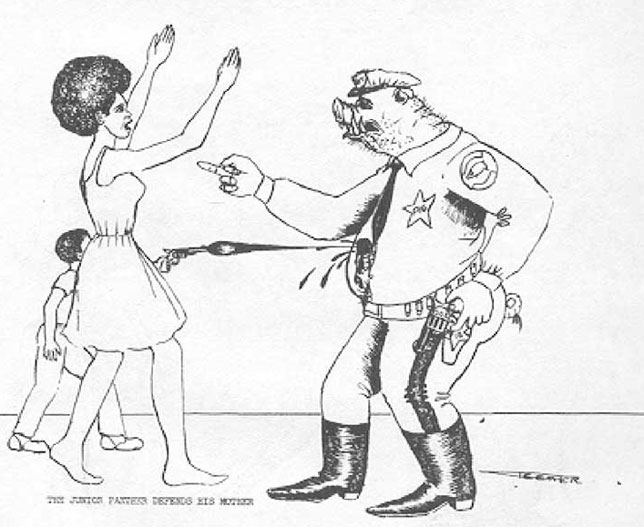 ---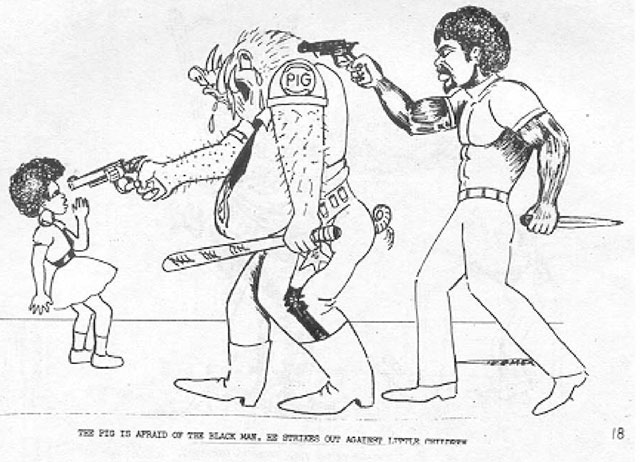 ---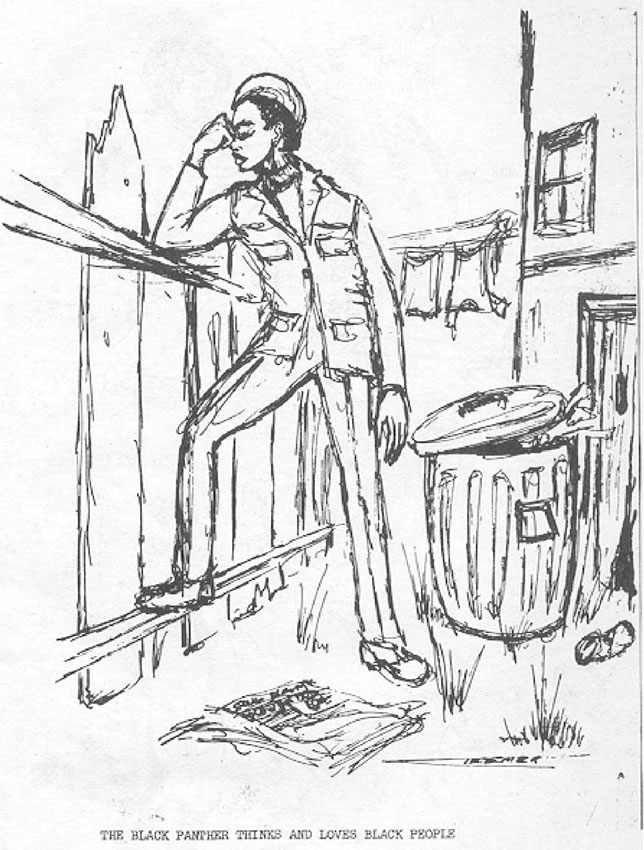 ---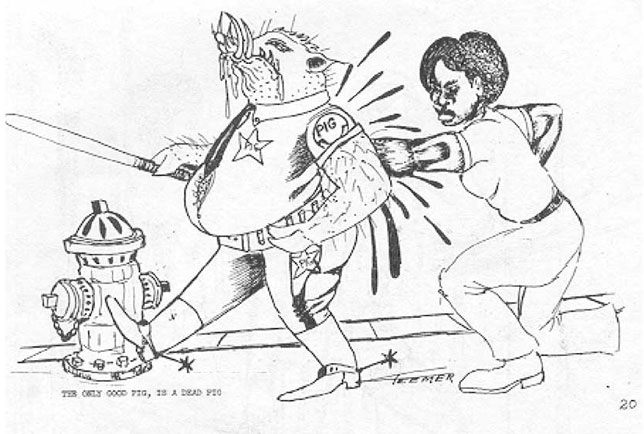 ---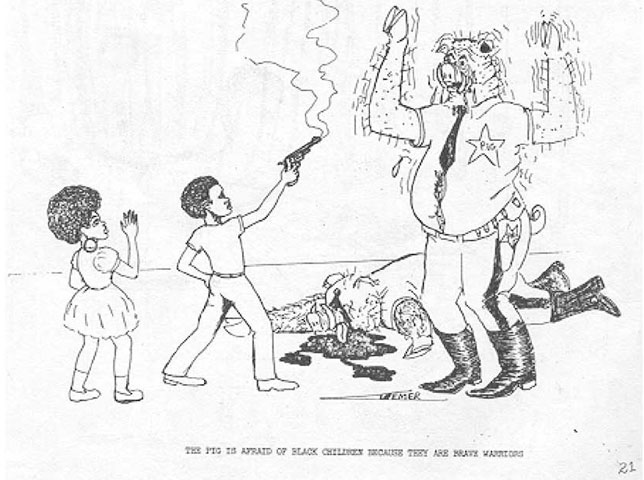 ---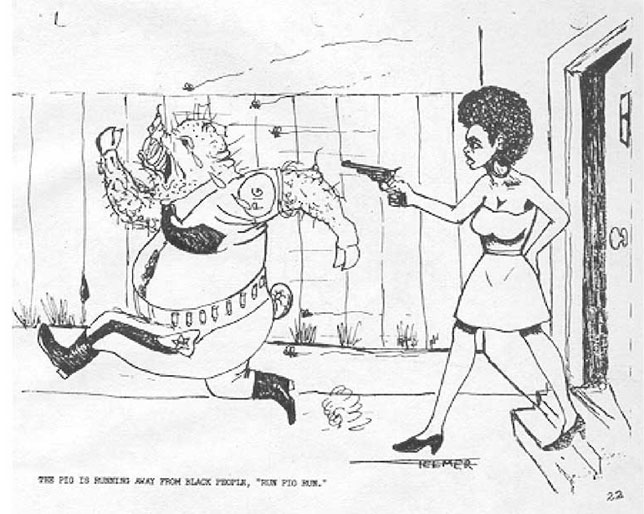 ---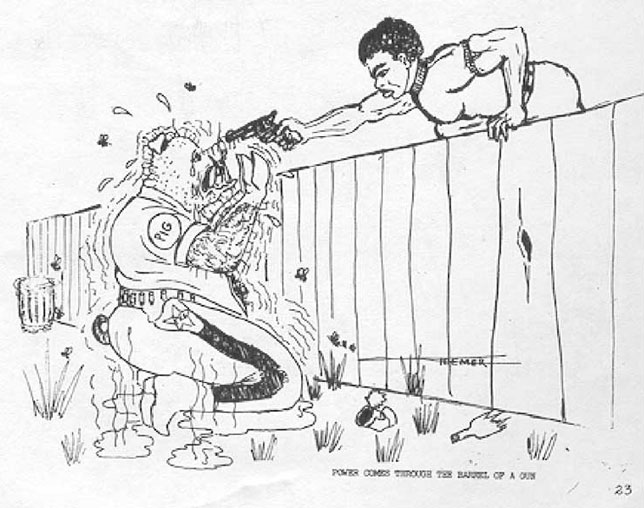 ---
View or Download the Black Panther Coloring Book
here
(www.archive.org)