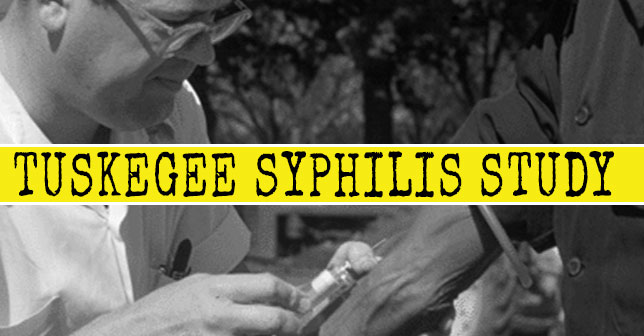 From 1932 to 1972, The United States Public Health Service studied the natural, untreated progression syphilis on 600 poor African Americans.
The Tuskegee Syphilis Study began in 1932 to settle the issue of whether or not blacks reacted differently to syphilis than whites. The investigators enrolled impoverished blacks from the rural area of Macon County, Alabama. By the late 1940s, Penicillin had become a standard and effective treatment for syphilis. Despite this the Surgeon General himself determined that the study should continue.
Six hundred and twenty-four men were initially targeted and lured in with the promise of free medical treatment for their "bad blood". Three hundred and ninety-nine men were initially infected with syphilis and an additional 201 men were deliberately infected. Forty of their wives were also infected and 10 children were born with congenital syphilis.
Whistleblower Peter Buxtun, deeply concerned with the morality of the study, initially tried to go through the proper channel and alerted the Center of Disease Control about the study who simply stated that the study had to be completed. In the early 70s, Buxtun went to the press and the story was finally picked up in 1972 by the Washington Star leading to Congressional hearings that ordered the immediate termination of the study. On May 16, 1997 President Clinton issued an apology for the forty-year study.