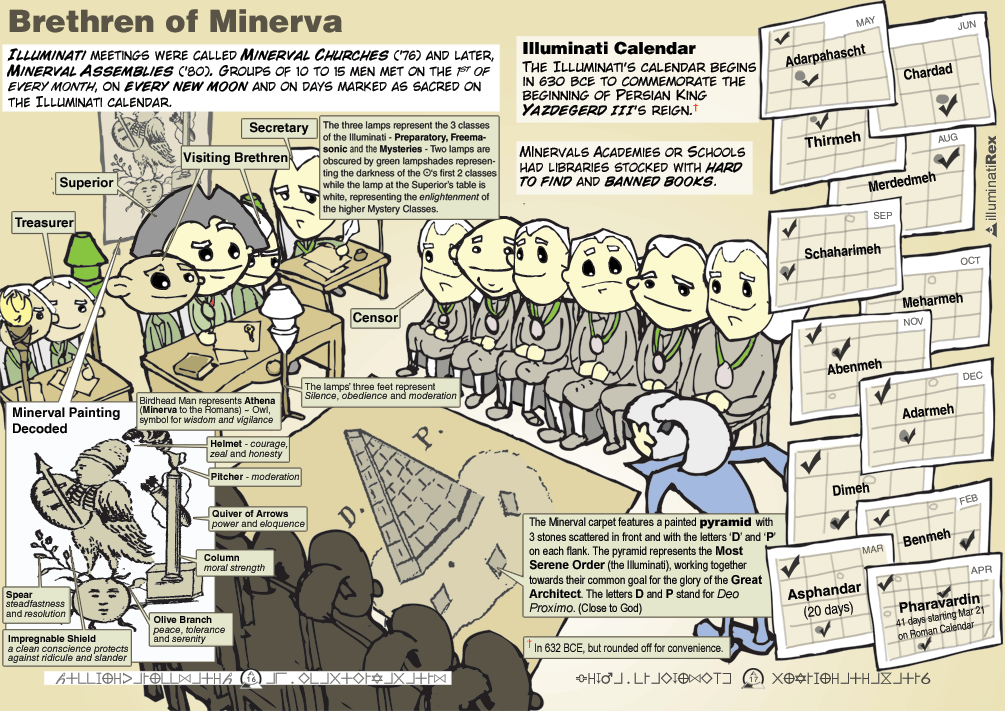 ---
Transcript
Illuminati secret meetings were called Minerval Churches (1776-80) and later, Minerval Assemblies. (1780) Groups of 10 to 15 men met on the 1st of every month, on every new moon and on days marked as Illuminati sacred on the Illuminati Calendar.
The Minerval Brethren ensured that the room was secured. That is, they made sure that the door was bolted shut and that all the windows were covered up.
The three lamps represent the 3 classes of the Illuminati – Nursery, Masonic and the Mysteries – Two lamps are obscured by green lampshades, representing the ⊙'s first two classes while the lamp at the Superior's table is white, representing the enlightenment of the Mystery Classes.
The lamps' three legs represent silence, obedience and sobriety moderation.
The Minerval carpet features a painted pyramid with stones scattered in front and the letters 'D' and 'P' on each flank. The pyramid represents the Most Serene Order, aka the Illuminati, working together towards their common goal for the glory of the Great Architect. The letters D and P stand for Deo Proximo.(Nearest to God)
So it appear the pyramid is an Illuminati symbol after all. A very important symbol as it is said to represent the most serene order.
Illuminati Minerval Officers: Secretary, Quaestor, Treasurer, Censor. Superior
Illuminati Minerval Painting Decoded
Birdhead Man represents Athena (Minerva to the Romans) ~ Owl, symbol for wisdom and vigilance
Helmet courage, zeal and honesty
Pitcher – moderation
Olive Branch – peace, tolerance and serenity.
Column – solidness of beliefs
Impregnable shield – A clean conscience protects against ridicule and slander
Lance – consistency and resolution
Illuminati's Calendar
The Illuminati's Calendar begins in 630 BCE to commemorate the beginning of Persian King Yazdegerd III's reign. (In 632 BCE, a likely error on Weishaupt part)
Adarpahascht May (May 1st is the Illuminati's anniversary and a sacred day marked on the Illuminati calendar)
Chardad June
Thirmeh July
Merdedmeh August
Schaharimeh September
Meharmeh October
Abenmeh November
Adarmeh December
Dimeh January
Benmeh February
Asphandar, (first 20 days of March on the Roman calendar)
Pharavardin has 41 days, from March 21st to the end of April
Part 1: ORIGINS
---
Part 2: SECRETS, RITUALS AND SYMBOLS OF THE BAVARIAN ILLUMINATI
1st Class: THE NURSERY
2nd Class: Freemasonry
3rd Class: Mysteries
---
Part 3: Bavarian Illuminati Membership
---
Part 4: The End of the Bavarian Illuminati
---
Part 5: Illuminati in Legend
---
---