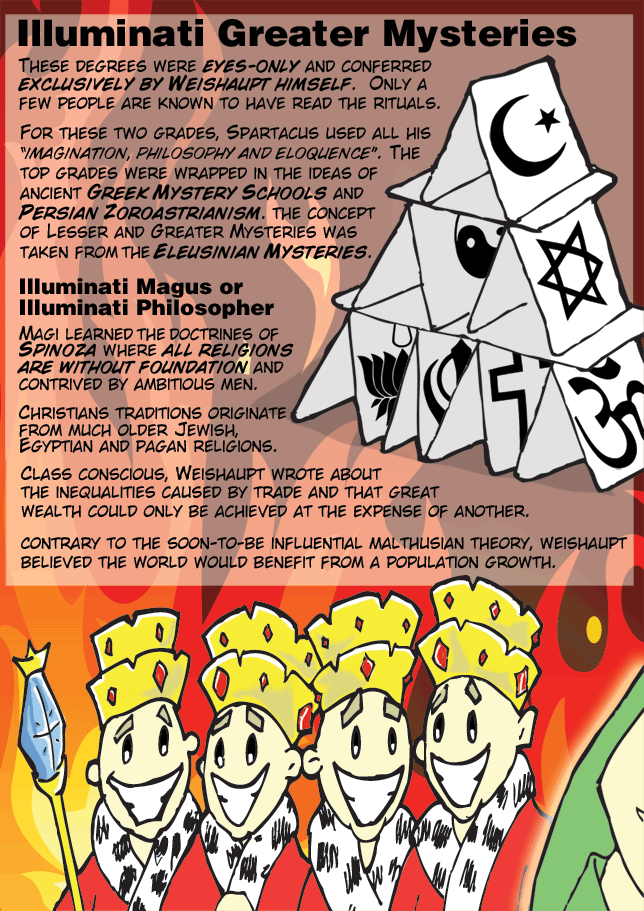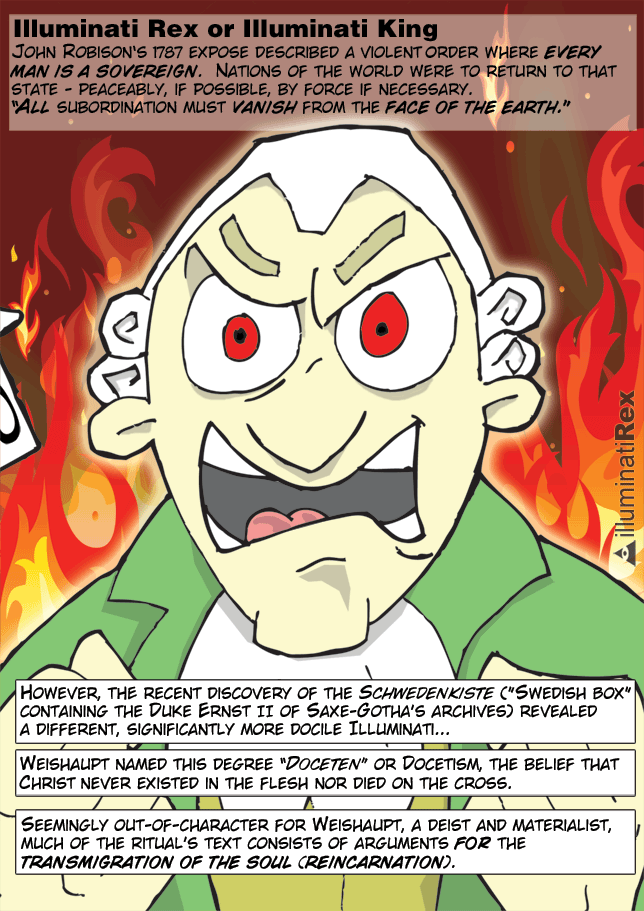 Notable Members of the Bavarian Illuminati not included in preview
---
Transcript
Illuminati Greater Mysteries -Illuminati Magus and Illuminati Rex Degrees
These degrees were EYES-ONLY and conferred exclusively by Weishaupt himself. Only a few people are known to have read the rituals.
For these two grades, Spartacus used all his "imagination, philosophy and eloquence." The top grades were wrapped in the ideas of ancient Greek Mystery Schools and Persian Zoroastrianism. The concept of Lesser and Greater mysteries was lifted from the Eleusinian Mysteries.
Illuminati Magus or Illuminati Philosopher
Illuminati Magi learned the doctrine of Spinoza where ALL religions are without foundation and are contrived by ambitious men.
Illuminati Rex or Illuminati King
Illuminati Rex was the highest grade of the Bavarian Illuminati. The Rex learned that ALL men were sovereigns.
Every man is a king.
ALL subordination must vanish from the earth. Peaceably, if it can be done; but, if not, then by FORCE! – A call for Revolution.
Part 1: ORIGINS
---
Part 2: SECRETS, RITUALS AND SYMBOLS OF THE BAVARIAN ILLUMINATI
1st Class: THE NURSERY
2nd Class: Freemasonry
3rd Class: Mysteries
---
Part 3: Bavarian Illuminati Membership
---
Part 4: The End of the Bavarian Illuminati
---
Part 5: Illuminati in Legend
---
---
---