Secrets, Rituals and Symbols of the Bavarian Illuminati- Illuminati Novice – the first step in becoming a member of the Order of the Illuminati began with a one to three years trial period in which the candidate would be observed and evaluated for possible membership in the Bavarian Illuminati.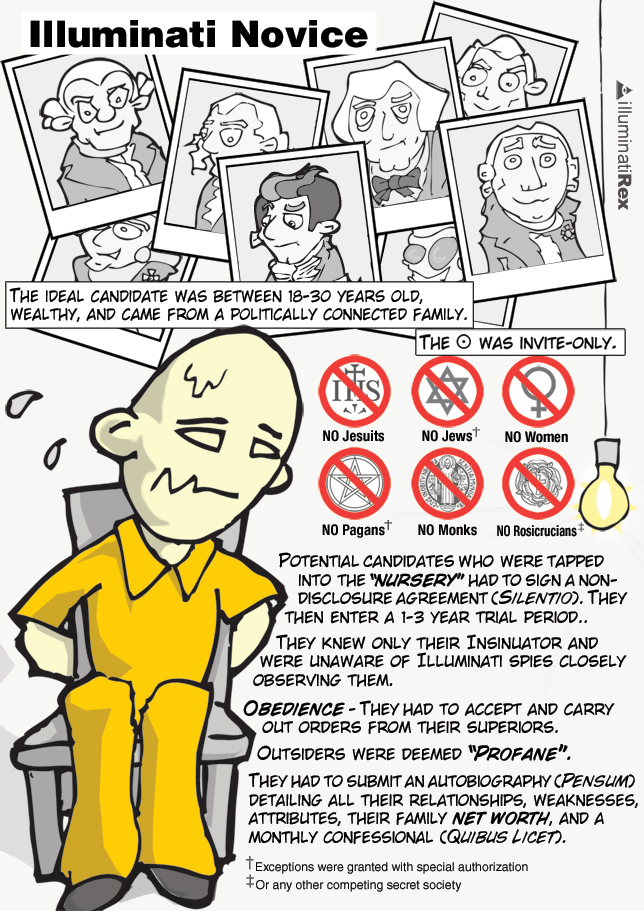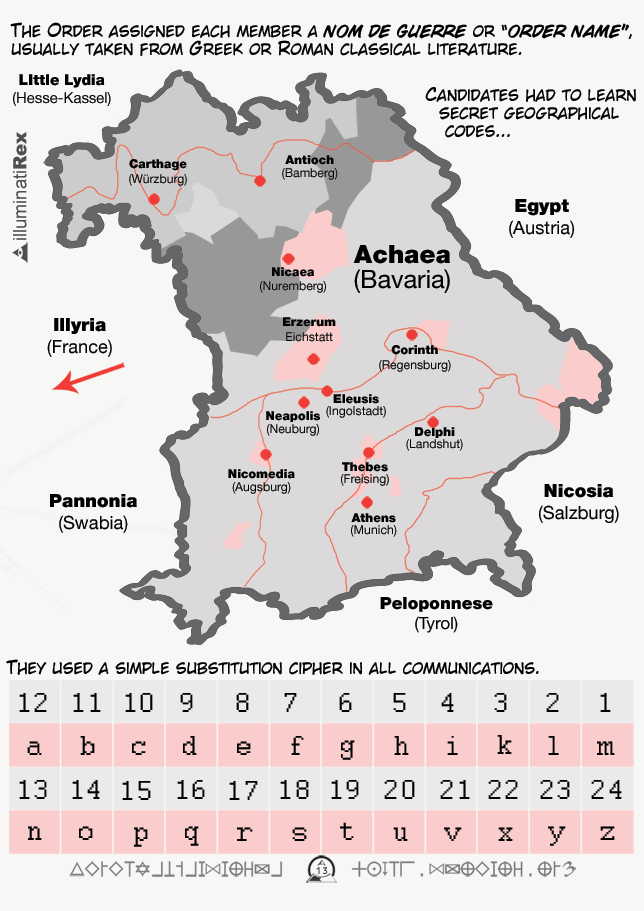 ---
Transcript
The ideal candidate was between 18-30 years old, wealthy, and came from a politically connected family of influence.The Order was invite-only.
NO Jesuits
NO Jews
NO Women
Potential Candidates who were tapped into "The Nursery" had to sign a non-disclosure agreement. (Silentio) They then entered a 1 to 3 years trial period.
They only knew their Insinuator and were unaware of other Illuminati closely observing them.
Obedience – They had to learn to accept and carry out orders from "Unknown Superiors".
The uninitiated Non-illuminati were to be referred to as the "Profane".
They had to submit an auto-biography detailing all their relationships, weaknesses, attributes, their family's net worth, etc (Pensum) and a monthly confessional. (Quibus Licet)
The Order assigned each member a nom de guerre or codename, usually taken from Greek or Roman classical literature.
Candidates had to learn special geographical codes…
Regions and Provinces:
Little Lydia (Hesse-Kassel)
Pannonia (Swabia)
Peloponnese (Tyrol)
Egypt (Austria)
Achaea (Bavaria)
Nicosia (Salzburg)
Cities:
Munich (Athens)
Freising (Thebes)
Eichstatt (Erzerum)
Augsburg (Nicomedia)
Regensburg (Corinth)
Nuremberg (Nicaea)
Landshut (Delphi)
Neuburg (Neapolis)
Ingolstadt (Eleusis)
Würzburg (Carthage)
They had to use a simple substitution cipher in all communications.
| 12 | 11 | 10 | 9 | 8 | 7 | 6 | 5 | 4 | 3 | 2 | 1 |
| --- | --- | --- | --- | --- | --- | --- | --- | --- | --- | --- | --- |
| a | b | c | d | e | f | g | h | i | k | l | m |
| 13 | 14 | 15 | 16 | 17 | 18 | 19 | 20 | 21 | 22 | 23 | 24 |
| n | o | p | q | r | s | t | u | x | x | y | z |
Part 1: ORIGINS
---
Part 2: SECRETS, RITUALS AND SYMBOLS OF THE BAVARIAN ILLUMINATI
1st Class: THE NURSERY
2nd Class: Freemasonry
3rd Class: Mysteries
---
Part 3: Bavarian Illuminati Membership
---
Part 4: The End of the Bavarian Illuminati
---
Part 5: Illuminati in Legend
---
---